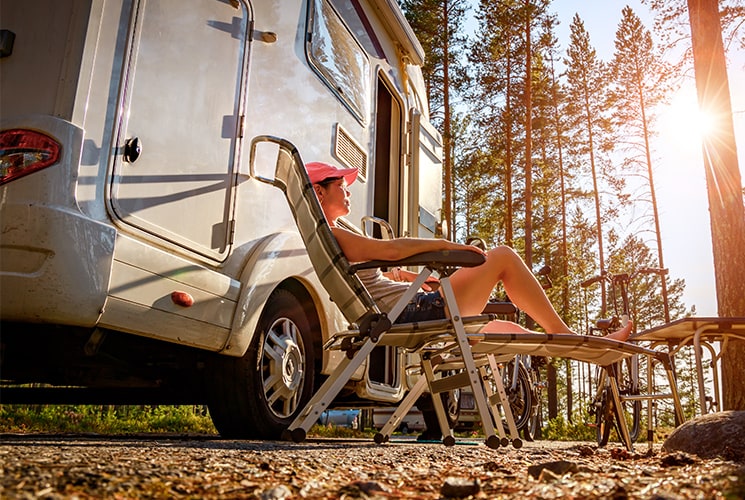 Road tripping in an RV is a fantastic way to travel, but before you decide to buy an RV, especially if it's the first time, you need to keep a few very important considerations in mind:
Can you tow it?
If you're looking for a trailer, this is THE question you should ask yourself first: does the vehicle you're currently driving have the towing capacity to take your new trailer on the road? You should have no problem if you drive a truck or an SUV. However if it's a Fiat 500… well… good luck!
Type of vehicle
You don't have an SUV? In that case, maybe a motorized recreational vehicle would be better. There are three types on the market:
Class A: These are usually large, bus-like vehicles with flat noses. They can sleep from 2 to 8 people and come with either a diesel or gas engine.
Class B: These are considered vans but have all the amenities of larger campers, including beds, bathrooms, kitchens, and living spaces. They sleep 1 to 2 people.
Class C: These are easily recognizable, with beds over the cabs, and are built on a truck chassis. They usually sleep 2 to 6 people, depending upon the model.
Is the vehicle fully inspected and ready to hit the road?
Make sure the RV you're about to purchase is 100% safe and roadworthy before you drive it. Otherwise… your dream trip could quickly become a nightmare.
Do you have a place to keep the vehicle?
Before you purchase your RV, you'll need to know where it's going to be kept whenever you're not using it. You may need to contact your municipality's city hall to obtain more information.
Do you know how to winterize your RV?
We know Canadian winters can be very rough… especially on your recreational vehicle! Davesports can winterize your RV if you need this service. Neglecting this aspect could cause serious damage.Your RV's plumbing system is a great place to start, particularly the "house" portion.
How will you be using your vehicle?
Do you want to park your new RV at a campsite for a couple of weeks and explore the surrounding area with your tow vehicle? Would you rather keep moving and visiting new destinations every couple of days? Or maybe you're more interested in traveling off-road? We can help you figure it out!
Don't forget your RV maintenance
Inspect the seams and roof seals regularly
Keep the wheel lug nuts tight
Check the tire pressure
Keep the battery fully charged
Maintain the wastewater system
---
Additional information is always available at Davesports, your RV dealership in Woodstock, New Brunswick. Don't hesitate to give us a call! Ready to buy? Then discover our inventory of new and used RVs now.