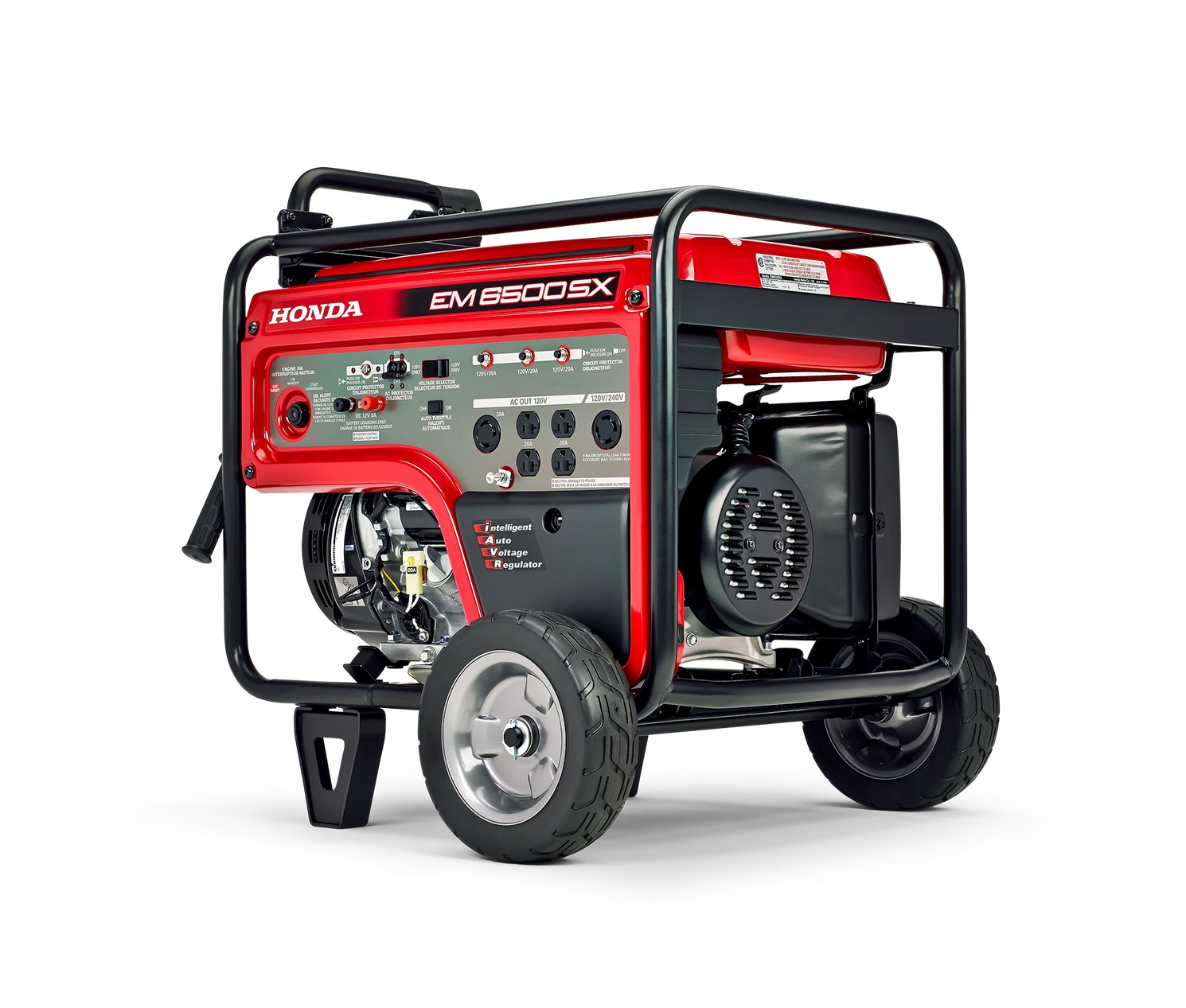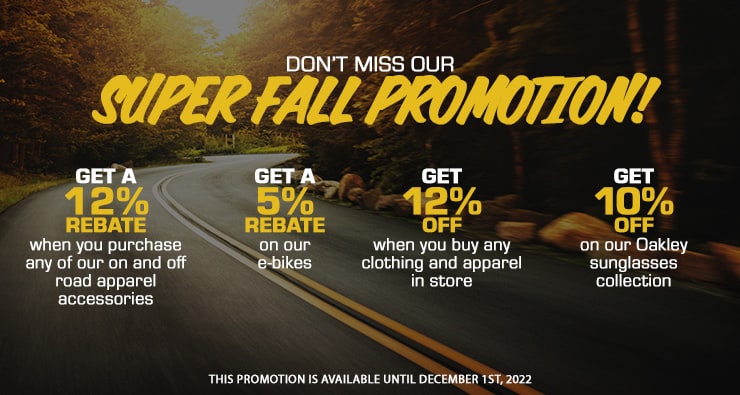 Don't miss our super Fall promotion with interesting discounts on clothing, accessories, sunglasses, e-bikes and more.
Manufacturer: Honda
Model: Generators EM6500S2CT2
Type: Generators
Generator Type: Brush type
Maximum AC Output (Watts): 6,500
AC Voltage Available: 120 / 240
Maximum Continuous AC Output (Watts): 5,500 7,000 (iAVR)
Max. Rated AC Amperage @ 120 V / 240 V: 45.8 / 22.9 (58.3 / 29.2 for 10 sec. iAVR)
Ground Fault Circuit Interrupter (GFCI): N/A
Frequency (Hertz): 60
Automatic Voltage Regulator: Standard iAVR (Intelligent Automatic Voltage Regulator)
DC Output Volts / Amps: 12 / 8
Common Duplex Receptacle Specifications: 40 amps/120 VAC continuous is available as combined total from these twin duplex AC receptacles. Maximum of 20 amps available from each GFCI duplex receptacle.
DC Receptacle Specifications: 8 amps/12 VDC is available from these +/- thumb screw terminals. Important Note: AC and DC output can be used simultaneously on this series only. DC system uses floating N (Neutral) type.
DC Charging Cable: Optional (P/N 32650-825-015)
High Capacity 120 / 240 VAC Twist Lock Receptacle Specifications: This receptacle (NEMA # L5-30R) will supply 30 amps at 120 VAC continuously. This receptacle (NEMA # L14-30R) will supply 22.9 amps (5.5 kVA) at 240 VAC continuously.
Engine Type: Honda iGX390T2 OHV, 4-stroke, air-cooled
Displacement: 389 cc
Starting System: Electric/recoil
Low Level Oil Alert System: Standard
Auto Throttle: Standard
Remote Start Capability: Optional
Fuel Tank Capacity: 23.5 litres (5.17 Imp. gal.)
Transport Wheels: 2 Wheel standard
Lifting Hook: Optional (P/N 06810-Z22- A30ZA)
Battery: Standard (P/N 31500-MCR-J01)
Approximate Running Time (hrs.) / Tankful: 6.9** / 10.4****
Rated Fuel Consumption (litres/hr): 3.40**
Noise Level dB(A) (1.5 m to 7 m): 73**
Length (Without Handles and Wheels): 681 mm (26.8 in.)
Length (With Handles and Wheels): 1,051 mm (41.4 in.)
Width (Without Handles and Wheels): 530 mm (20.9 in.)
Width (With Handles and Wheels): 706 mm (27.8 in.)
Height (Without Lift-Hook): 719 mm (28.3 in.)
Height (With Lift-Hook): 773 mm (30.4 in.) optional lift hook
Dry Weight: 104.8 kg (231 lbs.)
Cold Climate Technology: Standard
** / ***: **At max. rated output (continuous) in Watts. ****At 50% rated output (continuous) in Watts.